Tenacious D announce sequel to Pick of Destiny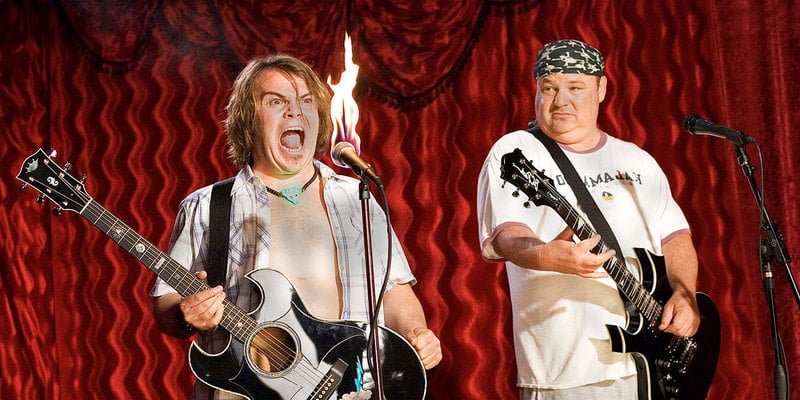 Tenacious D returns to the big screen! According to Jack Black, a sequel to the band's 2006 musical comedy, The Pick of Destiny, is coming out in October. Black revealed the news during the band's performance at Shaky Knees Music Festival last weekend. "I don't know where you'll be able to see it, but we have decided that it's happening and it's coming out," Black told the crowd, according to AJC Music Scene.
The first film was released in November 2006 to mixed reviews, but it has since gained a cult following among fans. The film is notable for Dave Grohl's cameo as Satan. So far, Tenacious D has not officially announced the sequel, but hopefully we'll get more details soon.
(via CoS)
See Luke Cage face off against new villain in season 2 trailer
Last week, Marvel dropped an action heavy trailer for the upcoming second season of Luke Cage. We see Cage (Mike Colter) staring down a powerful rival that may be his match. Turns out the villain is John McIver/Bushmaster (Mustafa Shakir) and he gives Cage an ass kicking he won't soon forget. Cage is left bloodied, but remains determined as he tells Claire Temple (Rosario Dawson) "I gotta find him."
The clip also shows cameos from blues rocker Gary Clark Jr and sports analyst Stephen A. Smith. We also see Cage's father (the late Reg E. Cathey) warning his son of the danger that lies ahead. "The darkness that you deal with every day – it can consume you whole if you let it," he says. "Don't let it."
Marvel's Luke Cage also stars Simone Missick, Alfre Woodard, Theo Rossi and Gabrielle Dennis. The second season premieres on Netflix June 22.
(via Rolling Stone)
Excellent! New Bill & Ted movie officially confirmed
Your favorite dimwitted duo is returning to the big screen. Yes, the third Bill & Ted movie is now official. Dubbed Bill & Ted Face the Music, the movie will be released by MGM in the US under its Orion Pictures Banners, while Bloom has the international distribution rights. Pre-production is currently underway.
Check out the full synopsis:
"They've written thousands of tunes, but they have yet to write a good one, much less the greatest song ever written. With the fabric of time and space tearing around them, a visitor from the future warns our heroes that only their song can save life as we know it. Out of luck and fresh out of inspiration, Bill and Ted set out on a time travel adventure to seek the song that will set their world right and bring harmony in the universe as we know it. Together with the aid of their daughters, a new crop of historical figures, and some sympathetic music legends, they find much, much more than just a song."
Directing the film is Dean Parisot (Galaxy Quest, Red 2) while Keanu Reeves and Alex Winter will reprise their roles as "Ted" Theodore Logan and "Bill" S. Preston, Esq. Co-creator and writer Ed Solomon also promised lots of juicy cameos for the upcoming film.
More details and the release date have yet to be announced. But we're glad the excellent duo is back in action!
(via THR)
Terry Gilliam's The Man Who Killed Don Quixote loses US distribution
Terry Gilliam's latest project is facing another major setback. Variety reported that Amazon has pulled out of distributing The Man Who Killed Don Quixote in the US. Amazon signed on to distribute the film in 2015. The deal was approved by Roy Price, the head of their entertainment operations. He was ousted last fall in a sexual harassment scandal and Amazon has been re-examining the types of films it makes and distributes in his absence.
To make matters even worse, the film is currently embroiled in a legal battle over ownership between Gilliam and the movie's former producer Paulo Branco. Branco requested the film not be shown at Cannes, which a French court dismissed. On top of this, Gilliam has been facing health issues and reportedly suffered a minor stroke last weekend and was hospitalized.
We wish Gilliam a speedy recovery and that things turn out okay for the movie.
(via Variety)
All hell breaks loose in debut Predator reboot trailer
You may want to duck and cover because Predator is finally here. The first trailer for the long awaited reboot of this horror classic dropped last week and it pulls no punches. The clip shows a young boy receiving a mysterious package only to find a control for Predator's ship. He accidentally triggers the monster's return to Earth. From there it's nothing but quick shots and jump cuts of a crew desperately trying to save the world from this monster.
Here's the official synopsis:
"From the outer reaches of space to the small-town streets of suburbia, the hunt comes home in Shane Black's explosive reinvention of the Predator series. Now, the universe's most lethal hunters are stronger, smarter and deadlier than ever before, having genetically upgraded themselves with DNA from other species. When a young boy accidentally triggers their return to Earth, only a ragtag crew of ex-soldiers and a disgruntled science teacher can prevent the end of the human race."
Directed by Shane Black, the movie stars Boyd Holbrook, Trevante Rhodes, Keegan-Michael Key, Olivia Munn, Sterling K. Brown, and Jacob Tremblay. The movie opens in theaters September 14.
(via ScreenCrush)
Adult Swim renews Rick and Morty for a massive season 4
Rick and Morty fans can breathe easy now. Last week Adult Swim revealed they renewed the show for another season. To make things even better, the order is for 70 new episodes. That's more than double the episodes Rick and Morty has aired and brings its total run to 101. The new deal doesn't come with time restraints, which fits in with co-creators Justin Roiland and Dan Harmon's production schedules. They're known for taking their time with the show; they took nearly two years between the end of season 2 in 2015 and the launch of season 3 in 2017.
To celebrate the renewal, Adult Swim will roll out their Rickmobile for pop up events around the country. The mobile store hits Atlanta on May 17 first and will make its way towards San Diego Comic Con in July. To find out when the Rickmobile will be in your town, check out the dates here. All we can say is wubba-lubba-dub-dub!
(via THR)
BY ASHLEY PEREZ
Source: reality-comics.com