Watch the first trailer for the Elton John biopic 'Rocketman'
After giving us a brief look at Taron Edgerton as Sir Elton John in the upcoming biopic, Rocketman, Paramount Pictures released a one minute teaser. Set to the tune of "Bennie and the Jets," the clip shows John's ups and downs on stage and behind the scenes while Richard Madden narrates as John's manager John Reid. He says: "There are moments in a rock star's life that define who he is. Where there was darkness there is now you, and it's going to be a wild ride."
The teaser bares a passing resemblance to the upcoming Freddie Mercury biopic, Bohemian Rhapsody. And that makes sense as both films share a director, Dexter Fletcher. That movie opens in theaters November 2.
John's biopic promises to offer an "uncensored human story of Sir Elton John's breakthrough years." Rocketman hits theaters May 31, 2019 and stars Taron Edgerton, Richard Madden, Jamie Bell, and Bryce Dallas Howard.
(via Collider)
Report: Netflix will let viewers decide how some shows end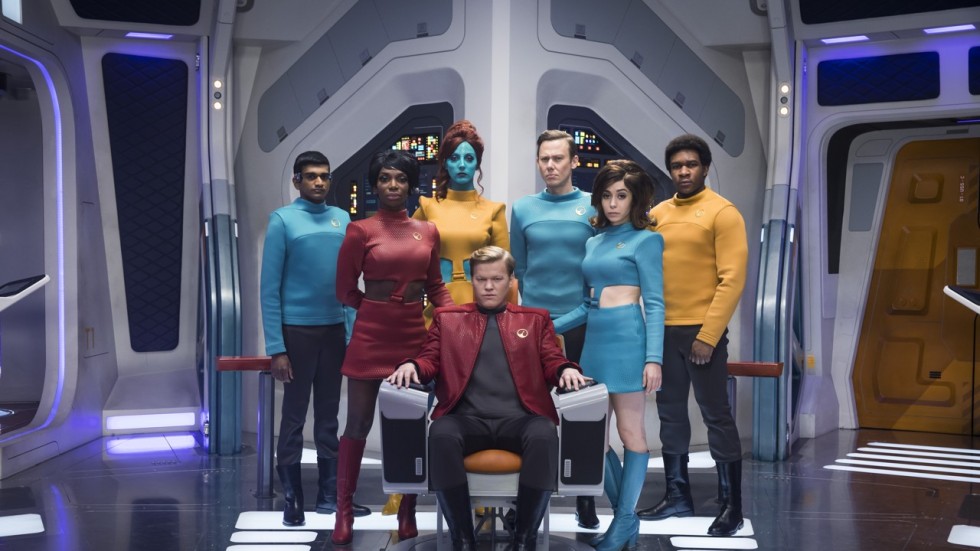 Netflix's latest gimmick takes inspiration from choose-your-own-adventure books. According to a Bloomberg report, the streaming service is planning to launch a new interactive feature on shows that will let viewers choose their own endings. Apparently, the projects will be released before the end of the year and will follow a model of some of the kid's shows currently streaming, like Puss in Book.
So far, Netflix has announced that Black Mirror is working on a choose-your-own episode for the upcoming fifth season. While there aren't many details, it's said the episode would let viewers decide how the story unfolds as they watch. Netflix has yet to announce the premiere date for the next season of Black Mirror, which is currently in production.
HBO experimented with a similar interactive model with Mosaic. The six-part Steven Soderbergh series let viewers customize different story threads via a companion app.
How do you feel about Netflix's new model?
(via Deadline)
David Harbour is legendary in first 'Hellboy' poster
The Hellboy reboot may be delayed, but judging from the debut poster it may be worth the wait. Entertainment Weekly revealed the first official poster for the upcoming film and it is badass. It features a beastly David Harbour looking fierce while holding his sword, ready for action as fire nearly engulfs him.
Recently, Hellboy was pushed back from its original January 11, 2019 date to April 12, 2019. That's one week after Warner Bros.' Shazam! opens in theaters April 5, 2019.
Directed by Neil Marshall, Hellboy stars David Harbour of Stranger Things in the title role and features a script from the comic book character's creator, Mike Mignola. Andrew Cosby and Christopher Golden also helped pen the script. Also starring in the movie is Milla Jovovich, Ian McShance, and Daniel Dae Kim.
(via ComicBookMovie)
Disney reveals plans for live action 'Lilo & Stitch' remake
Last week, Disney announced Lilo & Stitch is the next animated movie getting a live action remake. According to The Hollywood Reporter, newcomer Mike Van Wales will write the script. Dan Lin and Jonathan Eirich, who are currently working on the Aladdin remake, will serve as producers via Rideback.
Released in 2002, the film was written and directed by Dean DeBlois and Chris Sanders, who later worked on the successful How to Train Your Dragon. The movie focuses on a young Hawaiian girl named Lilo who cures her loneliness with the dog-like Stitch, a blue alien engineered to be a force of destruction. Though the movie wasn't a big success at the box office, it did go on to produce a television series and several direct to video sequels.
It's unknown whether this live action remake would be released in theaters or premiere on Disney's streaming service. The company is already working on a Lady & The Tramp live action remake starring Tessa Thompson and Justin Theroux that will be released on their streaming service.
(via THR)
Details emerge for Jon Favreau's upcoming 'Star Wars' series
There's a lot to look forward to on Disney's streaming service, but the most anticipated is Jon Favreau's Star Wars series. To get us even more excited, Favreau shared new details about the show, which will be called The Mandalorian.
"After the stories of Jango and Boba Fett, another warrior emerges in the Star Wars universe. The Mandalorian is set after the fall of the Empire and before the emergence of the First Order. We follow the travails of a lone gunfighter in the outer reaches of the galaxy far from the authority of the New Republic," Favreau shared in a post on his Instagram account.
The Mandalorian is only one of multiple live-action Star Wars series Disney is developing for its streaming service, which will launch in 2019.
(via THR)
BY ASHLEY PEREZ
Source: reality-comics.com