Sonic the Hedgehog races into theaters with new motion poster
We finally get our first look at the upcoming Sonic the Hedgehog movie with the first motion poster. The motion poster shows a familiar blue streak zipping around and collecting rings. It ends with a silhouette of Sonic with the tag line "A whole new speed of hero." The poster doesn't reveal much, but it does some minor changes to Sonic's design, such as a muscular build, attention to his fur, and some tweaks to his sneakers.
"It would be weird and it would feel like he was running around nude if he was some sort of otter-like thing," executive producer Tim Miller (Deadpool) told IGN. "It was always, for us, fur -- and we never considered anything different. It's part of what integrates him into the real world and makes him a real creature."
Sonic the Hedgehog opens in theaters November 15, 2019. The movie stars Ben Schwartz as Sonic and Jim Carrey as Dr. Robotnik, with James Marsden, Neal McDonough, Tika Sumpter, Adam Pally and Natasha Rothwell.
(via CBR)
Details revealed for Jordan Peele's next horror movie 'Us'
Back in May, Universal Pictures announced Jordan Peele's next project titled Us, but it's been a bit of a mystery ever since. Now, we're no longer in the dark as the movie's plot synopsis has been released. Revealed exclusively by /Film, the storyline is as follows:
"A mother (Academy Award winner Lupita Nyong'o from 'Black Panther,' 'Star Wars: The Last Jedi,' and '12 Years a Slave') and a father (Winston Duke from 'Black Panther') take their kids to their beach house expecting to unplug and unwind with friends (including Emmy winner Elisabeth Moss from TV series 'The Handmaid's Tale'). But as night descends, their serenity turns to tension and chaos when some shocking visitors arrive uninvited."
The poster for the movie has also been revealed. The poster is simple showing the side profile of two faces in black ink against a stark white background. He later revealed a second poster showing a person in a red shirt gripping a pair of golf scissors. Peele took to Twitter to announce the trailer will be released Christmas day.
Us, directed by Jordan Peele, and starring Lupita Nyong'o, Winston Duke, Elizabeth Moss, Tim Heidecker, Yahya Abdul-Mateen II, Anna Diop, Shahadi Wright Joseph, Evan Alex, Madison Curry, Cali Sheldon, and Noelle Sheldon opens on March 15, 2019.
(via /Film)
Full cast revealed for Star Wars live action series 'The Mandalorian'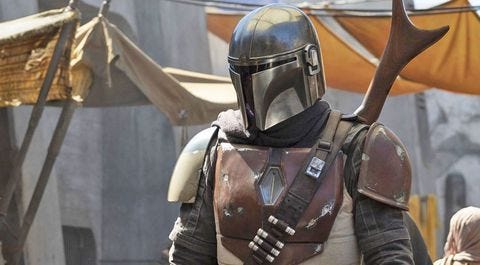 Lucasfilm has revealed the full cast for the upcoming Star Wars live action series The Mandalorian. Playing the title role with be Pedro Pascal and joining him are Carl Weathers, Gina Carano, Giancarlo Esposito, Emily Swallow, Omid Abtahi, Werner Herzog, and Nick Nolte.
"We're having a great time working with this incredibly talented group and excited for everyone to see what we're up to," executive producer Jon Favreau told StarWars.com.
Aside from the cast, we know little else about The Mandalorian at this time, except that the series will "follow the travails of a lone gunfighter in the outer reaches of the galaxy far from the authority of the New Republic" following Return of the Jedi and prior to The Force Awakens.
Favreau will also write the series and Dave Filoni will direct the first episode. Future episodes will be directed by Deborah Chow, Rick Famuyiwa, Bryce Dallas Howard and Taika Waititi.
The Mandalorian will premiere on the Disney streaming service sometime in 2019.
(via CBR)
Chris Pratt, Julia Louis-Dreyfus, Tom Holland, and Octavia Spencer join Pixar's 'Onward'
Pixar has a new original movie in the works and the excellent voice cast has been announced. Chris Pratt, Julia Louis-Dreyfus, Tom Holland, and Octavia Spender are the leading voice cast for Onward, which is referred to as a suburban fantasy.
Directed by Dan Scanlon (Monster's University), the film follows two teenage elf brothers who set out on a fantastical quest to find out if there is still magic in the world. Scanlon says much of the story is inspired by his own life. "At Pixar we try to create stories that come from some kind of personal truth," he says. "This film was inspired by my own relationship with my brother."
Onward opens in theaters March 6, 2020. In the meantime, you can catch Pixar's next movie, Toy Story 4, when it hits theaters June 21, 2019.
(via Variety)
BY ASHLEY PEREZ
Source: reality-comics.com