'Bill and Ted Face the Music' gets official release date
It's official, Bill and Ted are making a comeback! In a new video, Keanu Reeves and Alex Winter revealed the two are teaming up once again for a third installment in the Bill and Ted franchise. The movie, titled Bill and Ted Face the Music, will open in theaters August 21, 2020.
Production is expected to start this summer in New Orleans with Reeves and Winter reprising their roles as time traveling slackers. Also returning to the franchise are creators Chris Matheson and Ed Solomon, who will handle the script, while Dean Parisot will direct.
Bill and Ted Face the Music will be set several decades after the events of Bogus Journey, with Bill and Ted stuck in the middle age and still struggling to write the Wyld Stallyns song that was prophesied to save the world. After a visitor from the future tells Bill and Ted that their music is key to humanity's survival, the two embark on another time traveling adventure, this time with their daughters, meeting historical figures and music legends on their journey. All we can say is excellent!
(via Entertainment Weekly)
Watch the first official trailer for season 3 of 'Stranger Things'
The wait is over! Mike, Eleven, and the rest of the gang are back in the new trailer for Stranger Things season 3. The clip shows opens Dustin (Gaten Matarazzo) returning from summer camp only to discover his electronic toys moving on their own. Set to Mötley Crüe's "Home Sweet Home," Dustin arms himself with a spray can and follows the toys, but when his friends pop up behind him with a "Welcome Home" banner and noisemakers, the surprise still frightens him and prompts him to blast Lucas (Caleb McLaughlin) in the eyes with some hair spray.
The rest of the trailer is an exciting montage of the weird happenings in Hawkins, Indiana, including gas mask wearing soldiers, the mysterious Starcourt Mall, and a shadow monster ripping through a hospital. But we're most excited about the returning bromance of Dustin and Steve!
Stranger Things stars Winona Ryder, David Harbour, Finn Wolfhard, Millie Bobby Brown, Gaten Matarazzo, Caleb McLaughlin, Noah Schnapp, Natalie Dyer, Charlie Heaton, Joe Keery, Priah Ferguson, Cary Elwes, Jake Busey and Maya Thurman-Hawke. Season 3 will debut on Netflix on July 4, 2019.
(via Netflix)
Woody and the rest of the gang return in full-length 'Toy Story 4' trailer
After months of teasers, the full-length trailer for Toy Story 4 is here! Set to The Beach Boys' "God Only Knows" the trailer shows Woody and the gang facing a new crisis when toys' new owner Bonnie introduces Forky. This eventually leads to a road trip where Woody learns the world is bigger than he could've imagined.
Directed by Josh Cooley and written by Stephany Folsom, Toy Story 4 stars the original cast, including Tom Hanks, Tim Allen, Joan Cusack, Annie Potts, along with new voices in new voices in Tony Hale, who plays Forky, Keegan-Michael Key and Jordan Peele as Ducky and Bunny, and Keanu Reeves as Duke Caboom.
The movie opens in theaters June 21.
(via ComicBookMovie)
Revisit the Hollywood of yesteryear in the new 'Once Upon a Time in Hollywood' teaser
In anticipation for Quentin Tarantino's latest movie, Once Upon a Time in Hollywood, Sony has released a new teaser trailer. The clip opens with stars Leonardo DiCaprio and Brad Pitt, in a black and white interview on the set of the fake Western TV series Bounty Law. We then see glimpses of Margot Robbie as Sharon Tate along with footage of the Cinerama Theatre, the Pussycat Theatre and dancing Playboy Bunnies. The teaser is filled with countless visual reminders that the film takes place in the 60s.
Written, directed, and produced by Quentin Tarantino, Once Upon a Time in Hollywoodstars Brad Pitt, Leonardo DiCaprio, Margot Robbie, Burt Reynolds, Al Pacino, Tim Roth, Zoe Bell, Michael Madsen, Timothy Olyphant, Damian Lewis, Luke Perry, Emile Hirsch and Dakota Fanning. It is scheduled for release on Aug. 19, to coincide with the 50th anniversary of the Tate-LaBianca murders.
(via CBR)
Sabrina masters her powers in new 'Chilling Adventures of Sabrina' part 2 trailer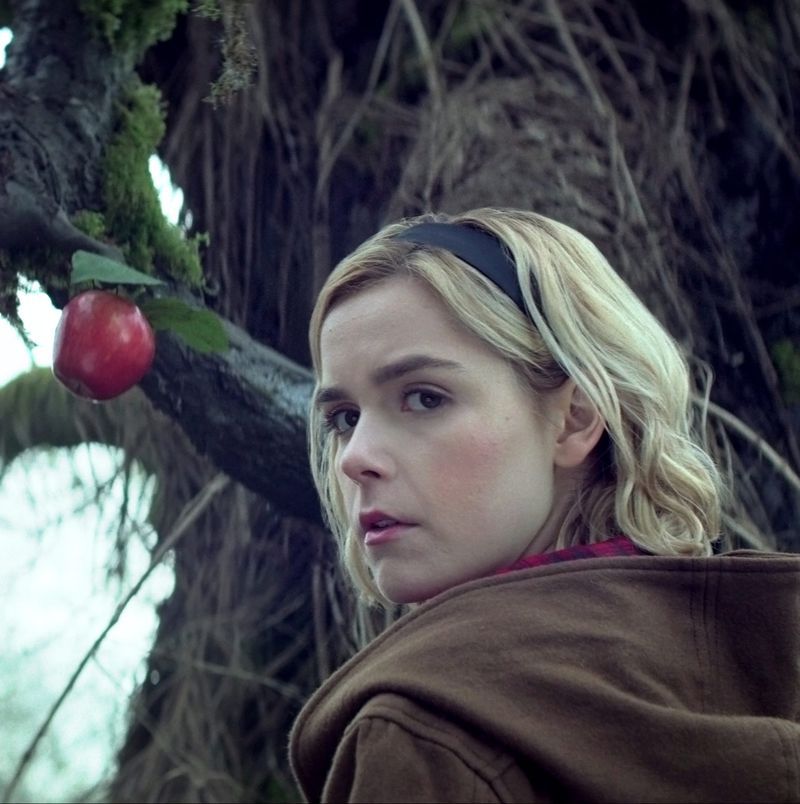 Sabrina and the gang return in the new trailer for season two of the Chilling Adventures of Sabrina. The clip shows Sabrina pouring gasoline all over the floor at Baxtar High. From there we see her using her powers with ease suggesting she's mastered them since the previous season. We also see a love triangle between Sabrina, Harvey, and Nick Scratch, a dark force that sees Harvey, Jaz, and Susie joining forces, and Ambrose getting in trouble.
The Chilling Adventures of Sabrina stars Kiernan Shipka as Sabrina Spellman, Ross Lynch as Harvey Kinkle, Michelle Gomez as Mary Wardwell/Madam Satan, Jaz Sinclair as Rosalind Walker, Lachlan Watson as Susie Putnam, Chance Perdomo as Ambrose Spellman, Lucy Davis as Hilda Spellman and Miranda Otto as Zelda Spellman. The series returns for its second season on April 5.
(via CBR)
BY ASHLEY PEREZ
Source: reality-comics.com