'Batman Begins' screenwriter Davis S. Goyer to reboot 'Hellraiser'
Hold on because here comes another reboot of a horror classic. Spyglass Media Group has announced plans to reboot Clive Barker's 1987 Hellraiser with David S. Goyer writing and producing.
"I've been a fan of Clive's work since the original Books of Blood paperbacks and The Hellbound Heart novella. Having the chance to reimagine Pinhead and the Cenobites for a new audience is a nightmare-come-true. Gary is a true fan as well and we're committed to making something dark and visceral," said Goyer.
The original Hellraiser, based on Barker's novella The Hellbound Heart, spawned a sequel, Hellbound: Hellraiser II in 1988 followed by six direct-to-video sequels with the most recent being 2018's Hellraiser: Judgement.
Goyer's credits include co-writing Christopher Nolan's Batman franchise along with Marvel's Blade trilogy. He's also working on the upcoming Skydance/Paramount/Fix production Terminator: Dark Fate. Hopefully, this spells good things for the reboot.
(via Deadline)
Disney reveals new release date for 'The New Mutants'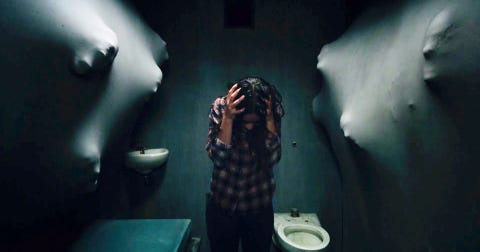 The New Mutants has had a troubled production and when it was delayed for a third time, the future of the film seemed uncertain. Fans can rest easy because Disney has announced its new release date: April 3, 2020.
The studio revealed the news in their official schedule of upcoming films from their various properties. Other updates include release dates for three untitled Star Wars films, December 16, 2022; December 20, 2026; and December 18, 2026; and Avatar 5 set for December 17, 2027. Missing from the schedule is the Gambit movie, which has been removed from Disney's slate.
The New Mutants was originally delayed due to script re-writes and reshoots to add a new character to the plot. Those reshoots have yet to take place. Originally, the film was slated for an April 2018 release.
(via Deadline)
'Batwoman' series picked up by The CW
Batwoman is hitting the small screen for her own television series. The CW announced that Arrowverse spinoff Batwoman has been picked up for a series order. They also revealed the first teaser for the series, which shows the iconic Bat symbol and the series' logo. CW also revealed that Riverdale spinoff Katy Keene and Nancy Drew have also been picked up for series.
The series will star Ruby Rose, who made her debut as Batwoman during the Arrowverse crossover event titled "Elseworlds." The series will follow Kate Kane — the second incarnation of the Batwoman character in DC Comics lore, introduced in 2006 — who is described as "an out lesbian and highly trained street fighter… primed to snuff out the failing city's criminal resurgence."
Written by Caroline Dries and developed by Bertlanti Productions and Warner Bros. Television, Batwoman stars Ruby Rose, Rachel Skarsten, Meagan Tandy, Camrus Johnson, Dougray Scott, Elizabeth Anweis and Nicole Kang. There is currently no announced premiere date for the Batwoman pilot.
(via TVLine)
HBO reveals debut trailer for 'Watchmen' TV series
A war is brewing in the new teaser trailer for HBO's upcoming Watchman series. The preview opens with a man in a Rorschach mask saying "We are no one. We are everyone. And we are invisible." Similarly masked people begin chanting "tick tock," which gets louder throughout the trailer. We then see various footage of this dystopian world, which appears to feature a war between vigilantes and the authorities.
Developed by Damon Lindelof, HBO's adaptation of Alan Moore and Dave Gibbon's Watchmen stars Jeremy Irons, Regina King, Don Johnson, Tim Blake Nelson, Louis Gossett Jr., Yahya Abdul-Mateen II, Tom Mison, James Wolk, Adelaide Clemens, Andrew Howard, Frances Fisher, Jacob Ming-Trent, Sara Vickers, Dylan Schombing, Lily Rose Smith and Adelynn Spoon. The series will premiere in the fall of 2019.
(via Deadline)
'Bob's Burgers' movie gets summer 2020 release date
Bob, Linda, Tina, Gene, and Louise are headed to the big screen. Originally announced in 2017, Fox just confirmed the release date for the Bob's Burgers movie: July 17, 2020. They also confirmed it will feature all voice actors from the show: H. Jon Benjamin, Dan Mintz, Eugene Mirman, John Roberts, Kristen Schaal, and, of course, Larry Murphy.
We don't have any other details about the movie, but series creator Loren Bouchard recently teased on social media that certain mysteries related to the show will be answered in the movie, like why Louise wears the bunny hat and why we never hear from Bob's mother.
Fox renewed the series for a 10th season. Starting this fall, reruns of past episodes will begin appearing on FXX, which will retain exclusivity in 2021 when the show leaves both TBS and Adult Swim.
(via Indiewire)
Pennywise returns in debut 'It: Chapter 2' teaser trailer
Horror returns to Derry in the debut trailer for It: Chapter 2. The clip starts out with Beverly (Jessica Chastin) now an adult returning back to her childhood home. She chats with the older woman who now lives there and the two have tea together. Things quickly get unsettling as Beverly notices a dark change in the woman. "You know what they say about Derry?" the woman tells her with a creepy smile. "No one who dies here ever really dies." Soon Beverly realizes it's actually Pennywise in disguise.
When then see the rest of the Loser's Club regroup to put an end to Pennywise once and for all. Bill Denbrough (James McAvoy) stares at the sewer that Pennywise used to lure his little brother to his death nearly three decades prior. Richie Tozier (Bill Hader) sits at a bench beneath the looming Paul Bunyan statue as It drifts across the sky with balloons. We also get glimpses of Ben Hascomb (Jay Ryan), Eddie Kaspbrak (James Ransone) and Isaiah Mustafa as Mike Hanlon.
Directed by Andy Muschietti It: Chapter 2 opens in theaters September 6.
(via ComicBookMovie)
BY ASHLEY PEREZ
Source: reality-comics.com